CHRISTIAN SCIENCE AND THE BIBLE
Introduction
At a meeting of the Christian Scientist Association in 1879, Mary Baker Eddy proposed a motion on which it was voted: "To organize a church designed to commemorate the word and works of our Master, which should reinstate primitive Christianity and its lost element of healing." Just over a decade earlier in 1866 Mrs. Eddy had slipped and fallen on some ice and after examination, her doctors had pronounced her injuries fatal. She asked to be given her Bible, and turned to Matthew to an account of one of Jesus' healings. As she read, the words of Jesus, "I am the way the truth and the life: no man cometh unto the Father, but by me," (John 14:6) flooded into her heart and thought. She was suddenly filled with the conviction that her life was in God – that God was the only Life, the only I AM. In that instant she was healed, through prayer, through spiritual means alone. The significance of this moment as the point of the discovery of Christian Science became clear to Mrs. Eddy only later. She concluded that she had to know how her healing had been accomplished. To find the answer she turned to her Bible.
Purpose
The purpose of this paper is to trace the path down which she was led to the discovery of Christian Science and, through deep study of the Bible, to an understanding of its practice, which enabled her to write the textbook, Science and Health with Key to the Scriptures. In tracing this path we shall rely heavily on what she wrote about her experiences. Rather than comprising a rigorous historical research document, this paper seeks to find Mrs. Eddy's own leadership and guidance in her writings -to show us how she discovered Christian Science and learned its practice -so that if we wish, we too may follow in her footsteps. It may be helpful to note here that Mrs. Eddy's most-used Bible was the "Common" or "Authorized" version, both terms used at that period to refer to the King James Version of the Bible.
Childhood and Young Adulthood
Mary Baker Eddy was born in Bow, New Hampshire in 1821. Her family and their social circle were deeply religious people.  As was common in the early 1820s, life was centered on God and how He should be worshipped. From early childhood Mary's life was Bible-centric. In speaking of her childhood church home, many years later, she describes her "list of blessings infinite" as including: devout orthodox parents; her early association with the Congregational Church; daily Bible reading and family prayer; her cradle hymn and the Lord's Prayer, repeated at night; and her early association with distinguished Christian clergymen, all of which were very dear to her.  She continues "Such churchmen, and the Bible, especially the First Commandment of the Decalogue, and Ninety-first Psalm, the Sermon on the Mount, and St. John's Revelation, educated my thought many years, yea, all the way up to its preparation for and reception of the Science of Christianity." (Message, '01.) Years later in her autobiography, "Retrospection and Introspection" she wrote, "From my very childhood I was impelled, by a hunger and thirst after divine things, — a desire for something higher and better than matter, and apart from it, — to seek diligently for the knowledge of God as the one great and ever-present relief from human woe." (Ret.31:9)
From early childhood, she was described as of frail health, with a delicate nervous system. Mary's chronic ill health, which continued throughout the first half of her life until her discovery of Christian Science, was the driving force behind her medical researches and experiments. She married young but was widowed early, giving birth to a son soon after. Her continuing ill health made it very hard for her to care for her young son, and led to her family determining it would be better for her if he were cared for by another. He was taken away when he was seven and she didn't see him for nearly 30 years. A second marriage, giving hope for regaining custody of her son, ended in divorce following her husband's infidelity.
Medical Experiments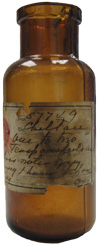 In Retrospection and Introspection, Mrs. Eddy wrote that for 20 years, from about 1845 until her discovery of Christian Science, she had been trying to trace all physical effects to a mental cause. Her exploration of homoeopathy had prompted her into this search. She needed to know, however, the nature of this mental cause. She wrote: "The physical side of this research was aided by hints from homoeopathy, sustaining my final conclusion that mortal belief, instead of the drug, governed the action of material medicine. I wandered through the dim mazes of materia medica, till I was weary of "scientific guessing," as it has been well called. I sought knowledge from the different schools, — allopathy [conventional medical practice], homoeopathy, hydropathy, electricity, and from various humbugs — but without receiving satisfaction." (Ret. 33:1) In Science and Health she added: "The author's medical researches and experiments had prepared her thought for the metaphysics of Christian Science. Every material dependence had failed her in her search for truth; and she can now understand why, and can see the means by which mortals are divinely driven to a spiritual source for health and happiness. Her experiments in homoeopathy had made her skeptical as to material curative methods." (S&H 152:21)
This research may be of interest to the reader, in the light of the recent press and TV reports of research showing that in certain tests un-medicated tablets or placebos that have been given to patients have appeared to be equally as effective as the medications
being tested.
Science and Health explains in regard to homeopathy that "the drug is frequently attenuated to such a degree that not a vestige of it remains. Thus we learn that it is not the drug, which expels the disease or changes one of the symptoms of disease. The author has attenuated Natrum muriaticum (common table-salt) until there was not a single saline property left. The salt had "lost his savour;" and yet, with one drop of that attenuation in a goblet of water, and a teaspoonful of the water administered at intervals of three hours, she [Mrs. Eddy, while still experimenting with homeopathy before discovering Christian Science had] cured a patient sinking in the last stage of typhoid fever. The highest attenuation of homoeopathy and the most potent rises above matter into mind. This discovery leads to more light. From it may be learned that either human faith or the divine Mind is the healer and that there is no efficacy in a drug." (S&H 152:32-15)
Mrs. Eddy realized that Mind, or God, was the curative agent in her own healing. So she returned to the Bible to find the Science, or Christian method of her healing.
"The Great Discovery"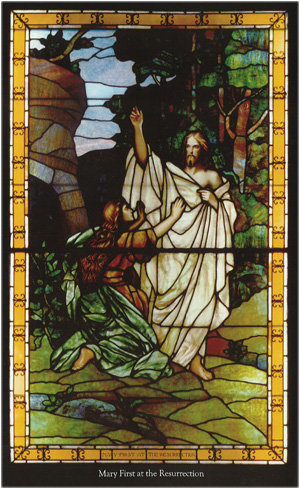 In an article titled "The Great Discovery" in her autobiography, Mrs. Eddy writes:  "My immediate recovery from the effects of an injury caused by an accident, an injury that neither medicine nor surgery could reach, was the falling apple that led me to the discovery how to be well myself, and how to make others so.  Even to the homoeopathic physician who attended me, and rejoiced in my recovery, I could not then explain the modus of my relief. I could only assure him that the divine Spirit had wrought the miracle — a miracle which later I found to be in perfect scientific accord with divine law. I then withdrew from society about three years, — to ponder my mission, to search the Scriptures, to find the Science of Mind that should take the things of God and show them to the creature, and reveal the great curative Principle, — Deity. The Bible was my textbook. It answered my questions as to how I was healed; but the Scriptures had to me a new meaning, a new tongue. Their spiritual signification appeared; and I apprehended for the first time, in their spiritual meaning, Jesus' teaching and demonstration, and the Principle and rule of spiritual Science and metaphysical healing, — in a word, Christian Science." (Ret.24: 12-9)
Deeply studying the Bible for guidance was not a new experience for Mrs. Eddy. Throughout her life, she turned to the Bible, many times a day, for comfort, inspiration, and guidance.  Her great love of and respect for the Bible, and its central importance in the study of Christian Science is evidenced in many places in her writings. Some examples are:
"The Bible has been my only authority. I have had no other guide in "the straight and narrow way" of Truth"; (S&H 126:29)

"The Bible is the learned man's masterpiece, the ignorant man's dictionary, the wise man's directory."
(Mis. 363:27

"Christian Scientists are fishers of men. The Bible is our sea-beaten rock. It guides the fishermen. It stands the storm. It engages the attention and enriches the being of all men." (My.595:17)

"Acquaintance with the original texts, and willingness to give up human beliefs… open the way for Christian Science to be understood, and make the Bible the chart of life, where the buoys and healing currents of Truth are pointed out"; (S&H 24:4) 

"Divine Science derives its sanction from the Bible, and the divine origin of Science is demonstrated through the holy influence of Truth in healing sickness and sin"; (S&H146:23)
It has long been accepted that the Scriptures have both a literal and a spiritual meaning, and Mrs. Eddy was keenly aware of this, and referenced this fact in different places in her writings. For example:  "Take away the spiritual signification of Scripture, and that compilation can do no more for mortals than can moonbeams to melt a river of ice." (S&H 241:14) Mrs. Eddy came to recognize that it was the spiritual meaning of the Scriptures that had brought her healing, and that just as she had needed to grow up to this spiritual, healing meaning of the Bible, she recognized that everyone needed to grow to this higher, healing, meaning of the Scriptures. Hence her statement that "The spiritual sense of truth must be gained before Truth can be understood. This sense is assimilated only as we are honest, unselfish, loving, and meek. In the soil of an "honest and good heart" the seed must be sown; else it beareth not much fruit, for the swinish element in human nature uproots it. Jesus said: "Ye do err, not knowing the Scriptures." The spiritual sense of the Scriptures brings out the scientific sense, and is the new tongue referred to in the last chapter of Mark's Gospel." (S&H 272:3)
Conclusion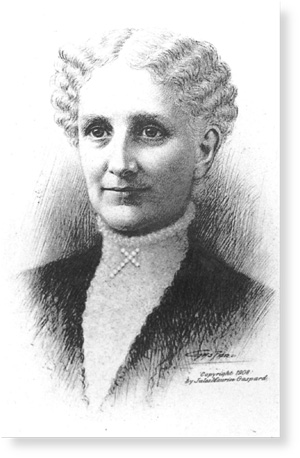 Mary Baker Eddy was fortunate in having a God-centered, Bible-centered childhood, but it was a childhood marred by ill health. Her frail health continued into young womanhood, through widowhood and a divorce, and was the reason she had to give up the care of her young son.  Forced into a seemingly endless search for relief from physical ailments, she seemed to have exhausted both conventional and unconventional means for help. Then in February 1866, in a life-threatening situation her doctors told her they could help her no more, so she turned to her Bible, to God, and was healed.
****
The next section "Gracious Preparation" examines the first five chapters of Science and Health for links to the Bible, and in so doing guides the student in his own glorious preparation for the understanding and demonstration of Christian Science.
Navigate the Exhibit:

This exhibit is available for display in your Reading Room.
First Church of Christ Scientist, Pasadena is happy to make this exhibit available to any other Christian Science church wishing to stage a similar exhibit in their Reading Room. We can provide an e-file and much encouragement to help you! Please call our clerk at (626) 793-5151 for more information.

This exhibit is copyright © 2012, First Church of Christ Scientist, Pasadena